Thank you to you all!
I would like to start the year by saying an enormous thank you to everyone who supported us throughout 2014 – Staff, Volunteers, Trustees, Fundraising Committee and Members. Thank you to all those who have given their time to help raise money – extra special thanks to Jean, Eve, Juliet and Sandra, and also all those who have kindly donated money to UNACC – extra special thanks to Gwen, Enid, Gerald, Barry and Mike. Thanks also go to Leigh, who on behalf of CVA waives hire fees for fundraising events and always supports us to make sure the money we raise can go straight back into the club. Lastly thanks to each and every one of you lovely members – here's to a happy and healthy 2015! X
Christmas Lunch a great success! – Wednesday 17th December
Christmas Lunch on Wednesday 17th December was a great success! We hosted over 60 members for a fantastic 3 course traditional Christmas dinner – the wine and conversation flowed and everyone had a wonderful time.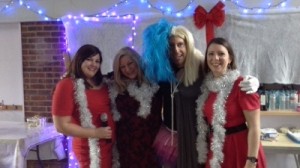 Leigh facilitated a festive joke game that made everyone laugh (or groan depending on the joke!) and the star turn was of course the fabulous entertainment from Mark who appeared as Donna Summer AND Barbara Streisand, along with his backing dancers/singers. Who needs cabaret when you've got us?!
The raffle had some great prizes, and raised £290, which we have used to stock our freezers with to make sure we keep on producing great meals for our members. Don't forget that in line with other lunch clubs the price will be rising to £5 for one course and £6 for two courses.
A happy place to be
We had several new members and volunteers join us in 2014, which is great news. Could everyone please make a special effort to greet other members and volunteers and make sure people are not being left out? UNACC is a warm and friendly place to be, and it's important that it always stays that way. Joining a club where you don't know anyone is a big step for some people so we want to make sure everyone – staff, volunteers and members, knows they are valued.